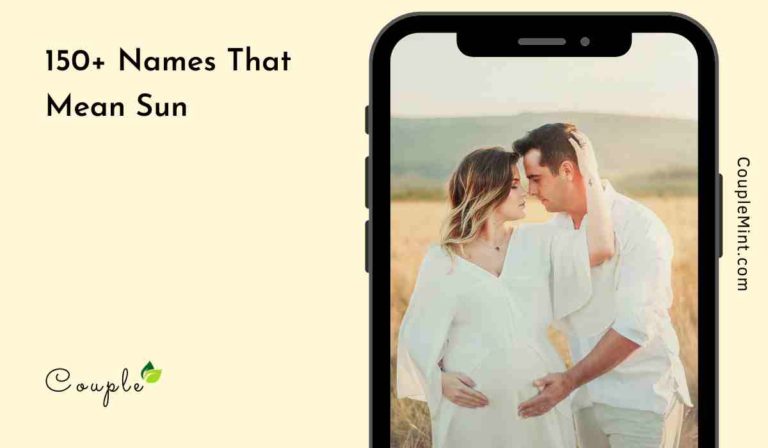 Want to choose radiant baby names that mean Sun? Discover appealing possibilities like sunshine, dusk, morning, brilliant for your sparkling little star.
Choosing a baby name is very exciting but challenging. Select a sun-based name for your baby to radiate joy. The Sun is in the center of our universe. Protect your future by placing your baby in the core of your family. You will get ample radiant baby names that signify Sun.
Sunshine signifies yellow, orange, and golden colors. Choose the bright and uplifting name to shower warm greetings. Sun is also related to words like fire, light, star, etc. Do you know summer is full of life? Maybe your decided date is in the summer. You can expect a sunny personality in your life.
Take a look at cute couple nicknames to give your partner. Browse our collection of sun-inspired names. Brighten your life with a good reputation. We've compiled a list of solar names for babies. To help you spend more time with the baby without worry.
Boys and girls both have the Sun names. You will find plenty of new Sun baby names ideas.
Names That Mean Sun
Wandering for Sun names for your baby boy or girl? Relieve your stress as we did the job for you. Spend more time with your cute little angel. No time to waste stressing on names. The top ten Sun names are:
Cyrus

 is a Persian-origin boy name that means "Sun."

Ellen

 is a prevalent girl name that means "Sunrays."

Elio

 is an Italian-origin boy name that means "Sunny."

Kiran

 is an Indian girl name that means "Ray of Sunshine."

Apollo

 is a Greek-origin boy name that means "God of Sun."

Oriana

 is a Latin-origin girl name that means "Sunrise."

Solaris

 is a Latin-origin boy name that means "of the Sun."

Eleodoro

 is a Spanish-origin boy name meaning "Gift from the Sun."

Malina

 is an Inuit mythology name meaning "Goddess of Sun."

Ravi

 is an Indian-origin boy name that means "God of Sun."
Names For Girl That Mean Sun
Sun names collection for your sweet princess. Vanish darkness from her life using sun names for girls.
Sienna
Sienna means orange-red in English. The color sienna is named after a location in Italy where the soil is a deep red-orange clay.
Éadaoin
Éadaoin signifies passion, jealousy in Irish. Éadaoin is the current Irish spelling of Étain. In Irish mythology, Étain was a sun goddess, according to sure researchers.
Helene
Helene means brilliant, bright, or radiating in Greek. This name is a modernized variant of Helen popular in Germany, Sweden, Norway, and Denmark.
Olwen
Olwen means white footprint in Welsh. Olwen was also known as the flower-bringing golden summer wheel and referred to as the Sun or the golden summer wheel.
Gry
Gry means dawn in Scandinavian. Unlike many Scandinavian names, Gry is a relatively new name. It was first used in Norway in 1897 and in Denmark in the twentieth century.
Solfrid
In Norwegian, Solfrid translates as "lovely Sun." Solfrid was given her given name for the first time in 1891. It fell out of favor, however, in the 1960s. Therefore, this is no longer frequently used.
Lia
Lia means Sun in Catalan. Despite being Catalan, Lia is famous in Italy, France, Switzerland, the Netherlands, Spain, and even Israel.
Grian
Grian means Sun in Irish. According to Irish mythology, Grian is the sister of one, making this a pair of sunny twin girls' names.
Arevik
Arevik means "sun" in Armenian. So R-Vic is a beautiful solar name for females if your family is Armenian.
Hemera
Hemera means day in Greek. The gods of night and darkness, respectively. It's a good brother/sister sun name pair.
Tesni
Tesni is a Welsh name meaning sun warmth. TESS-nee means Indian Summer and might be an excellent solar name choice for a family with Welsh background.
Aurora
Aurora means dawn in Latin. So Aurora was the Roman goddess of dawn. In the morning, she was supposed to gallop across the sky to welcome the light.
Eostre
Eostre means to shine in Old English. Eostre was the name of an ancient goddess from northern England. Names in Northumberland and Yorkshire are derived from this one.
Elanor
Elanor is a fictional character's name. For example, in J. R. R. Tolkien's epic classic The Lord of the Rings, Elanor is named after a flower. The term is defined in the book.
Marici
Marici is a Sanskrit word that means "light ray." In Buddhism, the character Marici is a Buddha-like deity. She has three faces and a lot of arms. She is holding a weapon in each hand.
Solvita
Solvita means "life-giving sun" in Latvian. Therefore, Solvita is an attractive choice for the new life introduced into the world on the first day of a new year.
Roxana
Roxana means dawn in Greek. Alexander the Great supposedly fell in love with Roxana, Princess of Bactria, at first sight. Alexander defeated her father at Sogdian Rock.
Beltane
Beltane means blazing fire in Celtic. On May 1, a ceremony marked the arrival of summer, and the burning fire symbolizes the Sun.
Helianthus
Helianthus means Sun in Greek. The common sunflower, Helianthus annuus, is one of over 70 Helianthus species. It is also part of the Helianthus tuberosus scientific name.
lfsól
Iclandic name lfsól means elf sun. In Iceland, you can only name your child on the National Names Register. Ancient names are not automatically approved. However, lfsól was allowed in 1998.
Arani
Arani means Sun in Sanskrit. Therefore, Arani is a name that has many meanings depending on the circumstance.
Éliane
Éliane means Sun in French. Éliane was a famous French girl's name in the 1940s and 1950s.
Ostara
Ostara means to shine in Old High German. Their calendar contained a month named Ostermonat, which means Ostara's month. They called it Ostern or Ostermonat because they celebrated the spring equinox.
Helie
Helie means Sun in Greek. The name Helie was one of Helios' seven daughters, collectively called the Heliades. Helios was the sun deity, and she was his daughter.
Summer
An English term used as a name is the Sun. Sun as a word name hasn't been used often for either males or girls. Sun has five girls and 18 boys in 2018. Summer, which conjures up ideas of sunny, pleasant weather, is a popular option.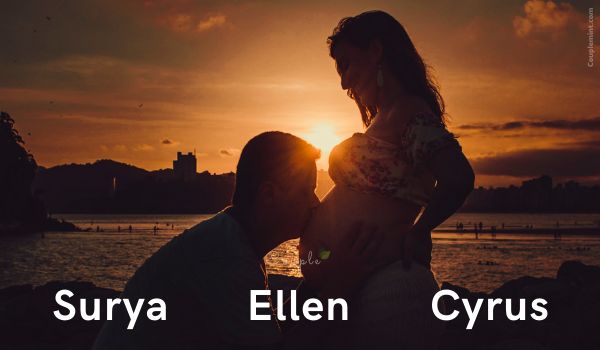 Names For Boy That Mean Sun
Sun names collection for your strong prince. Bless your soon-to-be son with Sun-like power.
Dimas
Dimas is a Spanish word that translates as "sunset." Unfortunately, although this name appears to be pronounced DIM-as, it is pronounced DEE-mah. As a result, if you choose this gorgeous name, be prepared to spend considerable time initially correcting others.
Anatoly
Anatoly is a Russian given name that translates as "sunrise." For example, a Anatoly Karpov is a Russian chess grandmaster who was the World Champion of Chess from 1975 to 1985.
Ravindra
Ravindra means Lord of the Sun in Hindi. So if naming your son Lord of the Sun seems a tad pretentious, the short form Ravi means Sun.
Lairus
Lairus is a Latin given name that translates as "he shines." Lairus, also spelled Jairus, was a man in the Christian Bible who pleaded with Jesus to rescue his dying daughter's life.
Ataru
Ataru is a Japanese name that translates as "Sun." Ataru could be a contender if you're a Star Wars enthusiast looking for a sun-inspired name. Ataru is the term given to the Jedi's fourth method of lightsaber fighting.
Haul
The haul is a contemporary Welsh name that translates as "Sun." While it is pronounced Hah-Yul rather than HALL, the spelling of this name may result in a lifetime of U-Haul jokes.
Egbert
Egbert is a Dutch name that translates as "bright." This Dutch surname is widespread throughout Europe, and Egbert commemorates their name day on April 24 in Poland.
Dai
Dai is a Welsh name that translates as "I shine." Dai is a stand-alone name derived from the Celtic word Dei, which means to shine. But it is also a short form of David used in Wales.
Langa
Langa is a Xhosa word for Sun. Xhosa is a Bantu language that is one of South Africa's official languages.
Altan
Altan is a Turkish name that translates as "crimson dawn." Altan also means golden in medieval Turkic and Mongolian. Therefore its name encapsulates the splendor of the rising Sun well.
Mehr
Mehr is a Persian given name that translates as "friendship with the sun." Mehr is also the Solar Hirji calendar's seventh month. 
Anwar
Anwar is an Arabic name that translates as "brighter, more radiant." Anwar Oshana was a professional boxer from Syria who relocated to the United States, where he had a 20-fight winning run.
Castor
Castor is a Greek given name that translates as "to shine." Castor and his twin brother Pollux were Zeus's sons in Greek mythology. Gemini is the constellation that represents the brothers.
Kem
Kem is a Romani given name that translates as "Sun." Kim Owens, an American singer-songwriter and producer, has chosen the moniker Kem. His most recent CD, Live Out Your Love, includes Toni Braxton.
Albert
Albert is a German given name that translates as "noble and shining." While Albert is no longer as famous as it once was, it was selected as the name for 614 baby boys born in the United States in 2019.
Rashmi
Rashmi means ray of sunlight in Sinhala. Sri Lanka gave the name Rashmi to the World Tropical Cyclone Committee. As a result, Rahmi became the season's eighth tropical cyclone.
Osbert
Osbert means heavenly light in Old English. He co-authored Biologia Centrali-Americana, a 215-part encyclopedia on Mexico and Central America's natural history and the natural history of Pennsylvania.
Aelius
Aelius is an Ancient Roman given name that translates as "Sun." Apart from being an enviable, stylish, contemporary boys' name, Aelius was the surname of the Roman Emperor Hadrian.
Other Names For Sun
Sun is the core of energy in our solar system. Many names can refer to the Sun are:
Surya

Aiden

Ravinder

Jivana

Phoebus

Kusuma

Heru

Alfrothul

Sunday

Shams

Chandrasurya

Inan

Ravi

Rebanta

Summer

Tejendra
Ushakanta

Sunny

Aditya

Neelabh

Ravinandan

Dinakar

Apollo

Aiden

Lyana

Nada

Aeliana

Padmakant

Inas

Ra

Chandrakirti

Leighann

Anshuman

Freyr

Chitrarth

Aditya

Kyros

Asis

Bharavi

Tapan

Siria

Anamitra

Martand
Ravindra

Heller

Himanghana

Kirav

Mithran

Eeshaan

Samson

Ainesh

Heller

Jnhih

Bhanu

Dinpal

Cyro

Blaze

Sonika

Syrus

Anatole

Apollonia

Aelius

Sansome

Bhargavi

Surya

Helaku

Malina

Easter

Mithra

Balaaditya

Liane

Ravindra

Tapti

Elio
Kalinda

Rajanikant

Leyann

Oriana

Savita

Vibhu

Solana

Arun

Aurora

Aarush

Savitendra

Ishan

Sansom

Leyanne

Tejeshwar

Kyrah

Levant

Sol

Mehrdad

Sulien

Himanghna
Tanya

Prabhakar

Bhaskar

Divyanshu

Mihir

Arunika

Kyri

Revant

Vareya

Ravi

Tapas

Vikram

Lea-Anne

Kharanshu

Cyrus

Sol

Samson

Cye

Marise

Sansao

Thea

Jyothishmat

Cyrie

Salana

Baskara

Elidi

Finlo

Kivar

Soleil

Marysol

Lea-Ann

Kalinda
Deeptanshu

Lyann

Apollonia

Rohtak

Ramsis

Sansim

Ravindranath

Diptanshu

Bhaudas

Ravij

Ritkriti

Apolline

Ciro

Solange

Ravichandra

Lyan

Vishwadeep

Sansum

Divakar

Sunny

Hinata

Bhanuprasad
Suravi

Helen

Uthphalamitra

Anshul

Savidharini

Kyrie

Arpina

Jimuta

Roshan

Lian

Kyree

Aland

Ravit

Bhagaditya

Eleodoro

Dakshinayan

Udayprakash

Nabhketan

Domingo

Misae

Aftab

Lalitaditya

Sol

Abelone
Sarang

Kiri

Elaine

Raviraj

Kiri

Kyra

Vibhavasu

Dismas

Aashman

Jayaditya

Cyra

Lyanne

Haru

Chitrarath

Solveig

Levana

Ravikiran

Ozanne

Anamitra

Abhisumat

Alba

Kuvam

Gandhi

Ishan

Patag

Anshul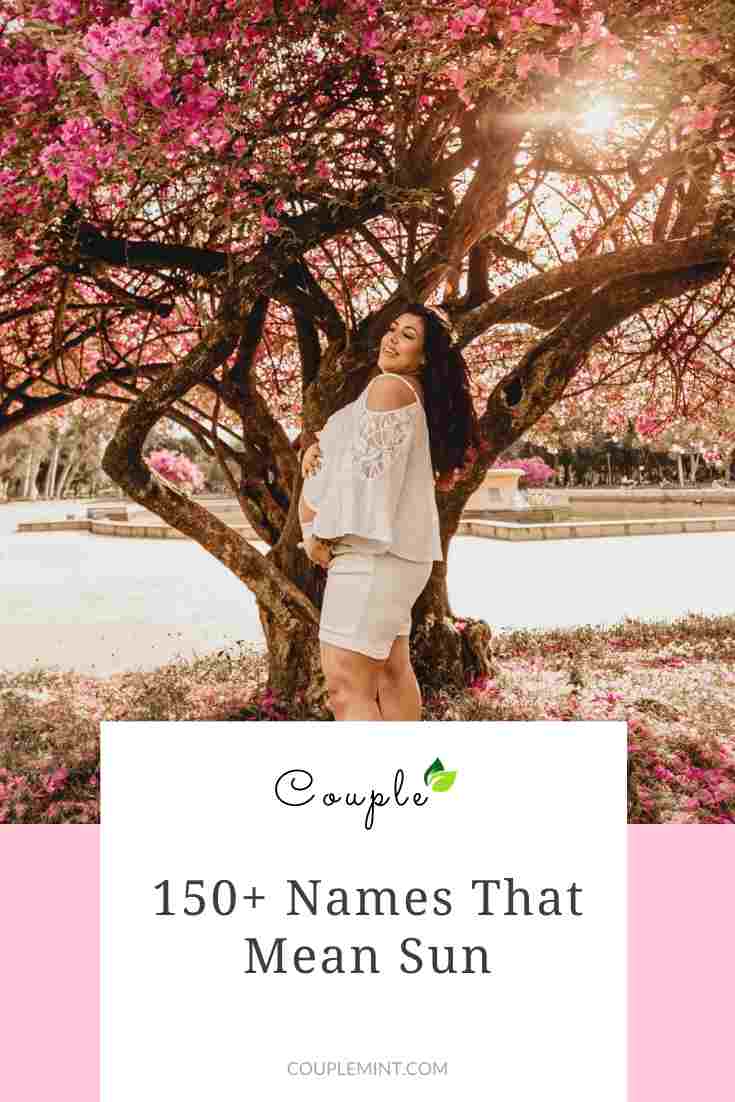 Why give your child Sun names?
If you're looking for unique baby names, why not look to the heavens? Choosing a celestial name for your new arrival will give your baby's name timeless appeal. But, unfortunately, trying to come up with the perfect name for your baby is probably the most stressful thing you can do.
There is a lot at stake, from picking something classy without following the herd to picking Sun exquisite names. The most challenging part is even if you think you've found the name for your child.
See if you can get a few close family members or friends to pronounce it for you correctly. After all, nothing irritates you more than hearing people mispronounce your child's names that mean Sun all the time.