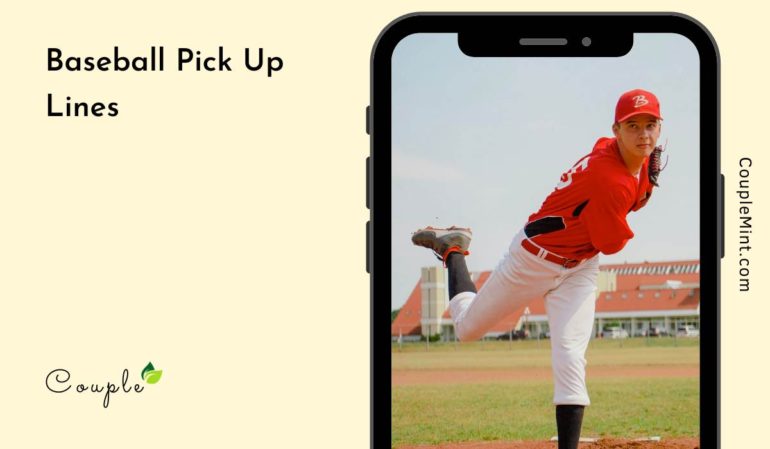 Do you like a Baseball fan? Use Baseball Pick Up Lines to impress the love of your life. Baseball is one of the few games that kids from all backgrounds play. Fathers have passed it down to their sons for decades. It vividly connects the past. Baseball has a nostalgic, mystical air we may not recognize. It connects Americans to their history. Not just American history, but also family history.
Hot Baseball Pick Up Lines Ideas
1. I wish you were a baseball so I could hit a home run.
2. Can I pinch-hit on you?
3. Are you in the on-deck circle? Cuz you're up next (to date me).
4. Give me your number so I can make the call.
5. I got a private conference in my hotel room at the winter meetings, come on up if you wanna look at my trade package
6. I love baseball. So take me home, girl.
7. Girl, you have two options: I can either take you to the ball or I can take the ball to you.
8. Unlike Dee Gordon, I give you full permission to tag my butt
9. Do I look anything like a fielder's choice?
10. Why do you look so familiar? Oh yes, the third-base coach. C'mon, wave me home.
11.  My dugout, or yours?
12. Would you permit me to pinch-hit on you?
13. Would you like to bat for me?
14. Hello. I am a professional baseball player.
15. Hey girl, I've been warming up this bench for you MY WHOLE LIFE.
16. Don't worry babe, I'm an outfielder – I'll always catch you.
17. Ah. I feel faint, did you just hit me? With a pitch?
18. I am about to calculate some Pif at home, would you like to join?
19. Looks like you're the big-ticket free agent, and I got lotta money to spend.
20. Can I show you my spitball?
21.  I'd lay down a sacrifice for you.
22. You better have a good catch, my trip for you is getting real.
23. I know I'm out of options, but I'll fight my way in and prove to you that I can make your team into a contender
24. If you were a baseball and I was a bat would you let me hit that?
25. So, I am off base and my lead-off is not any great. Would you let me take you on a date? That I could make great.
26. Just so you know, you would not have to worry about broken bats with me.
27. I think I glove you.
28. Hey babe, now that the season's over, let's go back to my place and watch the highlight film
29. If you were a baseball mitt, would you catch my fly balls?
30. You look like a third base coach who is going to wave me home.
31.  My love for you is like the A's and Daric Barton: it never dies.
32. Wanna play some ball? I have two balls and a bat, we could go 9 innings.
33. I have been warming up this bench for you.
34. Wanna come over and calculate some Fip?
35. You're a Catch Worthy of a Gold Glove
36. Ever seen a diamond? If you date me, you will see one.
37. They call me "The Lead" because the A's bullpen wants to blow me
38. Do you have a club? Or would you like to lead your fan club?
39. Hello, I'm a thief, and I'm here to steal your heart. Just like Dee Gordon when he steals bases!"
40. Can you tame my diamondback? Everybody else has.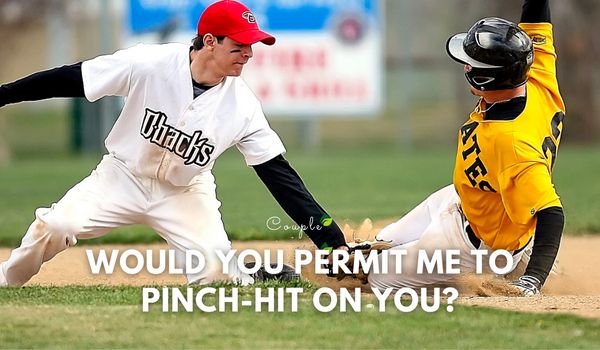 Solid Baseball Pick Up Lines Ideas
41.  Would you like me to show you my spitball?
42. The only thing tender today is my heart for you
43. Do you know your way around the bases?
44. You look like an angel, do you happen to be in the outfield.
45. Come back to my place and I'll show you what a real Sabermagician does
46. If you were a baseball could I hit a homerun
47. I am taking a chance; a joke? The Blue Jays. Something serious? My feelings for you.
48. Even though there's no ball game on tonight, ill still be slamming something out of the park
49. Are you in the outfield? Because you're an angel.
50. Babe, there are a few tough road series coming up, but if we can make it through them, I'll know it's real.
51.  I am falling for you. And I hope you have good catches, I do not want to reach the ground.
52. So, you must be baseball, because I am hitting.
53. Can I get your jersey? Sorry, I mean your name and number.
54. Baby, date me and I'll eventually show you a real diamond.
55. We must be in the bullpen because you're warming me up.
56. Babe, I didn't forget about you, how bout if I call you up this September?
57. Your pitch must have hit me because I'm feeling a little faint.
58. Like a platoon player, I'm dying to get some action
59. Of all the butts in all the locker rooms, well, yours is way better.
60. You look like a reliever, I'd like to sign you up for a lifelong contract with a vesting option.
61.  Hey, you are up next. I hope you are on-deck circle.
62. Do you know what I and Indiana Pacers have in common? Solid D.
63. Are you, Anthony Recker, because I just wanna let you pull my dinger
64. How good is your catch? Because I am falling for you.
65. Dang, girl. You're a fielder's choice.
66. Hey, I think you are quite the catch.
67. If you were a reliever, I'd sign you up for a three-year contract with a vesting option
68. Did you know you had more members on your fan club than you would imagine?
69. Would you sign me up for your fan club?
70. Hey girl. do you have a club option? Because my interest in you is mutual.
71.  I'm an outfielder I'll catch you.
72. Baby, you are quite the catch.
73. Play in my extra innings, I guarantee I'm a long reliever
74. Baby, I'm a free agent and I want you to sign me with no opt-out clause.
75. If you were an outfielder, would you catch me? Always?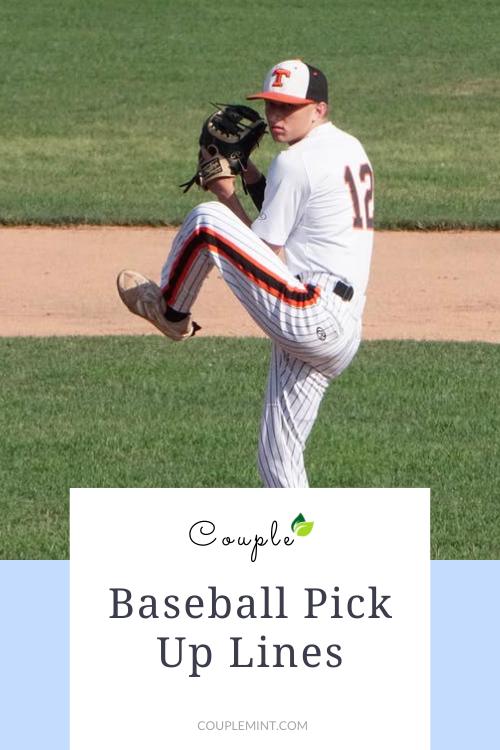 Read Also:
Final Words
Thank you for reading my article. I hope you got the baseball pick up lines. Loved reading my article on baseball pick up lines? Please share baseball pick up lines on social media platforms.