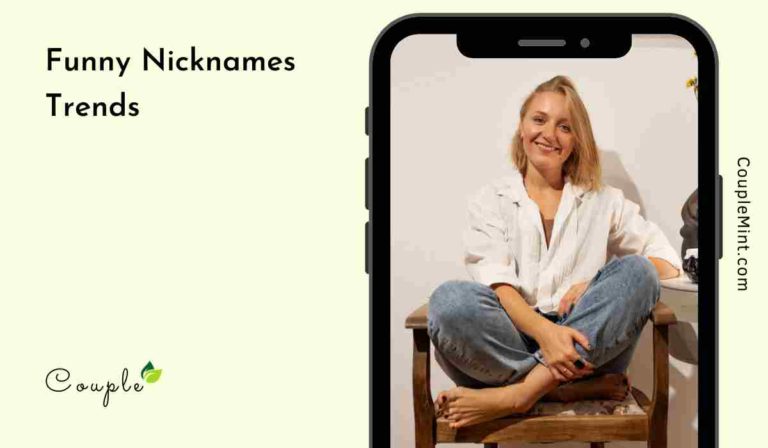 Hilarious funny nicknames to share intimacy, trust, and friendship. Replace long formal names with humor for Boys, Girls, Boyfriend, Girlfriend, Couple nicknames. A short one can break down barriers.
Many parents give their kids nicknames since they were born. Nicknames are used more than their real names. Humorous nicknames remind us to enjoy life in a rut. 
When you first start dating, there is this fantastic phase. Everything is new, interesting, and enjoyable! Weekends are full of activity, and even nights spent watching Netflix are enjoyable. You don't have to be that 'boring' pair.
Discover each other's joy while leaving behind your comfort zone. The names you choose don't have to be significant. Just names that will grow on you over time.
Read Cool Nicknames for mint-like refreshing ideas. It's fun to have a unique name. Having a nickname is intangibly enjoyable and even amusing. No matter how you feel about giving your nicknames. I've always seen it as a positive thing in our family.
What makes your partner truly happy? Happy to the point of dancing around the home. Doing things that make each other happy not only indicates that you care about the other person. How they feel, and desire to do things that make them smile. What makes each other happy? Do more of it.
Funny Nicknames
Humorous funny nicknames will show your besties how much you fantasize. True best pals are as rare as four-leaf clovers and a lottery win. We compiled a list of cute and amusing BFF, bro, and best friend nicknames.
Pals can keep our innermost secrets and cheer us up, they deserve a memorable moniker. Consider the person's personality when choosing a new nickname.
Banjo – Banjo, a popular musical instrument, is another uncommon and popular name you can give your child.
Burger – Do you enjoy fast food? Rule the world in style, with a name that will never go out of fashion.
Kal-El – Kal-El, the son of famous actor Nicholas Cage, was Superman's original name before he arrived on Earth. It means 'God's voice' in Kryptonian.
Jellybean – That is an actual person's name, and it's a cute way to ensure that everyone remembers his or her name, no matter what time of day or year it is.
Batman – Why not name your child after the people's vigilante savior? Batman is unquestionably a standout name that will frighten anyone who wishes harm to your child.
Alucard – When spelled backward, the name has a spooky ring to it. Maybe that's the intention?
Hashtag – Social media has effectively taken over all aspects of life, and Hashtag is one of the names given to a baby as a result of their obsession with social media.
Nutella – Nutella is a real name that some parents have chosen for their child as a tribute to their love of the world's favorite chocolate spread.
Grammophon – It's a name that no one will forget in an instant, and it's certainly not one that your child will forget in an instant. Grammophon can also be spelled differently to distinguish itself from the competition.
Jigsaw – This is a name that never befuddles or perplexes anyone!
Boys Funny Nicknames
Clown
Comic
Jazzy
Jokester
Screech
A-hole
Goofball
Madcap
Chippy
Chewbacca
Hater
Meatball
Amateur
Spock
Funny man
Buffoon
Crazy
Fish Face
Comedy Central
Cheesy
Rico Suave
Noob
Squints
Banana
Fatty
Chunkamunk
Jokes
Noodles
Chipmunk Cheeks
Chubs
Pork Chop
Rook
Screwball
Rookie
Fuzzy Wuzzy
Dumbo
Doofy
Tater
Stinker
Nut
Bumblebee
Urkel
Silly Goof
Cheeks
String bean
Hefty Wefty
Kooky
Duckie
Q-Tip
Energizer Bunny
Nutty
Squirt
Bing Bong
Clumsy Wumsy
Cheeseball
Comedian
Beefy
Giggles
Tootsie Pop
Goofy
Punk
Chipmunk
Tater Tot
Butterfingers
Spaghetti
Class Clown
Jabba
Zany
Mando
Doink
Squirrel
Joker
Cookie
Tiny
Seinfeld
McLovin
Donkey
Haterade
Burrito
Related Post: 350+ Cool Nicknames for Best Friend Boy
Girls Funny Nicknames
Goofy
Bunny
Squeak
Jokes
Roar
Rabbit
Stilts
Cat
Chef
Coo Coo
Muzzie
Pip Squeak
Fuzzy Wuzzy
Claws
Energizer Bunny
Tiny
Unburnt
Kitten
Four Eyes
Corny
Troublemaker
Noodles
Doofy
Gopher
Sugar Baby
Twinkle
Mittens
Boots
Chipmunk
Comedian
Beefy
Slim Thick
Comedy Central
Curly Girl
Giggles
Thick Thighs
Duckling
Spunky
Giggles
Hips
Hobbit
Sugar Mama
Beanstalk
Spaghetti
Cheeseball
Paws
Cheesy
Tater
Butterfingers
Sticks
Mouse
Cheesecake
Curls
Funny Girl
Hedgehog
Appaloosa
Itty Bitty
Fuzz
Curly
Sugar Lips
Stinker
BFG – Big Friendly Giant
Hottie
Dove
Goofball
Squints
Squishy
Goose
Punk
Class Clown
Quack
Turtle
Bambi
Spanky
Princess Peach
Related Post: 550+ Cute Nicknames for Girls
Funny Nicknames For Boyfriend
Casanova
Honey Bear
Papi
Cake Top
Yang
Lover
Wolfie
Idaho Spud
Big Red
Winky-Dink
Bun Bun
Handsome
Master Of Mustaches
Sweetie
Beast Master
Big Guy
Sexy
Pork Chop
Twinkle
Big League
Chipmunk
Honeybee
Rosebud
Snoopy
Zeus
Main Man
Gomer
Cuddle Bear
Honey Bun
My Sweet Boy
Animal Cracker
Cowboy
Munchkin
Chef Of Love
Big Hunk
Grumpy
Cuddle Bunny
Daddy
Yummy Lover
Rif Raf
Wooden Man
Star Light
Honeycomb
Bashful
Buttercup
Gummy Bear
Honey Pot
Snicker Doodle
Ladies Man
Flipstick
Bandit
Captain
Ducky
Bull
Shy Guy
Hunk
Apple of My Eye
Beer Nut
Diamond In The Rough
Adam
Marshmallow
Boy Toy
Sweetheart
Walnut
Tiger
Slick
Ninja in Training
Cookie Monster
King D
Stud Monkey
Sweet Pea
Other Half
Purple Dinosaur
Jelly Belly
Bam-Bam
Dimple King
Related Post: 350+ Best Nicknames for Boyfriend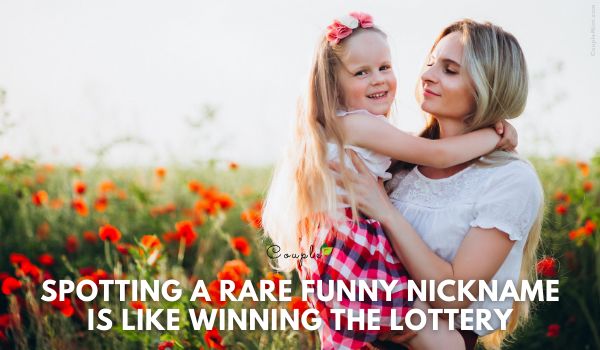 Funny Nicknames For Girlfriend
Raspberry
Cherry Jubilee
Philia
Cuddle Bug
Bambi
Bombshell
Sexy Mama
Pop Tart
Roller Girl
Twinkie
Queen of Hearts
Soul Mate
Sweet Cheeks
Sporty
Chickadee
Rainbow
Little Ballerina
Lovebird
Button
Hot Pants
Inamorata
Starburst
Sunshine
Precious
Orchid
Home Girl
Snow White
Star Bright
Caramel Apple
Dumpling
English Rose
Sugarplum
My All
Mint Chocolate
Peppermint
Sugar Puss
Pin-up Girl
Doll
Cherry Cocktail
Witchy Woman
Hon
Lolita
Eve
Queen Anne's Lace
Juicy Fruit
Caspia
Blonde Bombshell
Gum Drop
Blue Rose
Darling
Indian Princess
Little Oyster
Raisinet
Cupcake
Frou-Frou
Silly Goose
Lambchop
Banana Split
Rubber Ducky
Beautiful Flower
Mi Amore
Gorgeous
Baby Girl
Better Half
Noisy Girl
Snuggle Butt
Bella
Pebbles
Smurfette
Biscuit
Chica
Honey
Wifey
Pumpkin
Dearest
Goddess
Tech Queen
Related Post: 350+ Cute Nicknames for Girlfriend
Couple Nicknames Funny
Why do most people call their spouse by a nickname funny rather than their first name? A nickname is more personal.
Cuddle Muffin
McDreamy
Scooter
Old Faithful
Stud
Rose Petal
Butterball
Juliet
Sugar Cookie
Wookie
Kitten
Old Ball and Chain
Panda Bear
Astro Pop
Blossom
Popsicle
Romeo
Chunky Rabbit
Lover Girl
Energy Pop
Tinkerbell
Bright Eyes
Jock
Cherry
Lightning Bug
Trouble
Huggy Bear
Yummers
Curly Wurly
Bubbles
Cuteness
Ring Pop
Snicker Doodle
Old Lady
Magic Princess
Warrior Princess
Princess
Naughty Monster
Lovey Man
Hot Stuff
Old Man
Master Chief
My Rock
Man of My Life
Conan
Dollface
Dreamboat
Heavenly Connection
Clockwork
One in a Million
Fruit Loop
Hottie
Buckeye
Love Muffin
Young Thing
Hero
Teddy Bear
Dove
Choo Choo
Candy Necklace
Georgia Peach
Hummingbird
Regulator
Snuggie Woogems
Happy Meal
Pussy Cat
Main Squeeze
Twinkle Toes
Rapunzel
Avocado
Scrappy
Atomic Fireball
Scruffy
Darkside Warrior
Prince Charming
Candy Pants
Yin
Don Juan
Tarzan
Sailor Man
Tator Tot
Schmoopy
Red Hot
Lover Boy
Baby
Superman
Licorice Bite
Baby Bear
Kit Kat
Daffodil
Sugar Pop
Boo
Hubby
Wild Turkey
Lovey Woman
Blow Pop
Hot Chocolate
Angel
Cutie Pie
Adorable
Peanut
Pookums
Soldier
Baby Doll
Dangerous Angel
Bellissimo
Lolly
Pineapple Chunk
Sugar Lips
Magenta
Lady Killer
Pooh Bear
Kiddo
Mamacita
Hot Mama
Sour Apple
Angel Eyes
Shooter
Snuggles
Sugar Daddy
Cinderella
Chili Pepper
Doodle Bug
Chicklet
Snowflake
Cowgirl
Cleopatra
Dewdrop
Krull
Hot Tamale
Short Cake
Sleeping Beauty
Blue Jay
Jelly Bean
Bird Of Paradise
Tootsie
Fruitie Tootie
Cookie
Buttercup
Wood Stork
Mint Julep
Care Bear
Munchkin
Smoochy
Related Post: 350+ Cute Couple Nicknames
FAQs
1. What are some Spanish nicknames funny?
Gordito, Pachuco, Viejo are some good Spanish nicknames funny.
2. What are the Pokemon nicknames funny?
Chiquita, ShuckNorris, TreeStooges, Splash, FlygonJinn are crazy Pokemon nicknames funny.
3. What are some dirty nicknames funny?
Eaton, Keyrear, Dewitt, Seymour, Ostamie are some dirty nicknames funny.
4. What are the funny games nicknames?
Karen66, Slashers, Dark Sword, Simpsons, System Debt are funny games nicknames.
5. What are some funny cute nicknames?
Boomer, Nugget, Shortie, Scout, Oldie are funny cute nicknames.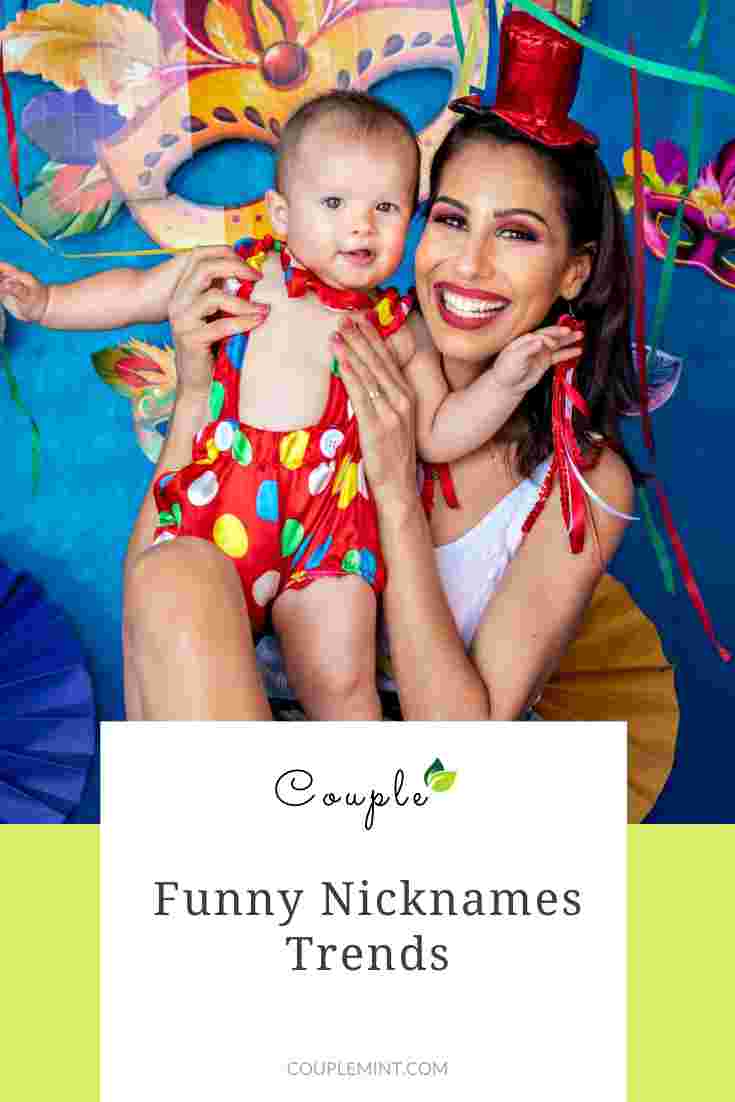 Final Words
Do you have nicknames? What do you think of nicknames? Please leave a comment. I hope you got funny nicknames. Loved reading my article? Please spread the word on Facebook and other social media channels.