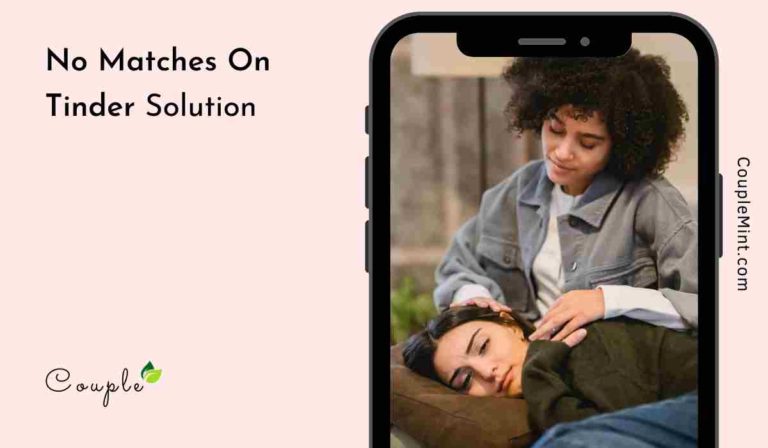 Getting no matches on Tinder? Unlock the key to receive floods of partners. Design your profile with some hot secret sauce. Hack the algorithm with us today for free. Internet-only blames choosing the wrong profile picture.
Considering Tinder users swipe pretty quickly, your DP is not everything. Interests and bio are vital attributes to make someone stop. Forcing them to takes more time to explore your multiple photos.
Swiping right on too many profiles reduces your number of matches substantially. You will confuse the Tinder algorithm. Finding the best match for you is the only goal for the system.
Not committing to one type of partner's interest will reduce your chances. Avoid shadowing your real interests on your Tinder profile. Instead, keep some details on Tinder private. Let people who understand your silence dig it for you.
Try Freaky Questions to ask your Boyfriend or Cute Questions to Ask Your Girlfriend as ice breakers to start the conversation. Never try to hide your real name with fake names. Your partner may take it as attempted catfishing.
Losing a potential life partner will be a heartbreaking deal. Instead, ask your friend to pick the profile picture for you. The post will reveal all Do's and Don'ts secrets no one likes to disclose.
No Matches On Tinder
Improve your match potential by understanding the Tinder algorithm. Learn the hacks first to break the rule according to the need. On Tinder getting no matches may lower your self-confidence.
Practice the rules before you reach the threshold. Avoiding these mistakes will boost your profile. You will also find the Cheatsheet for designing your profile later.
Why Am I Getting No Matches On Tinder?
Tinder initially exposes you to a large audience for around a day. Then, they use this time to analyze and target your target market. This is why you could receive a lot of matches at first, but then a week later, it decreases down.
You get a score based on your behavior and those around you. This score decides your success in the Tinder algorithm.
Now it is pretty simple to accidentally lower your score. The reason why you're wondering, "Why am I not receiving matches on Tinder?"
Profile Picture is a Selfie
Profile Sound Like a Resume
No Attractive Hobbies
Not Socialable
Lack of Humor
1. Profile Picture is a Selfie
Selfies are a joke compared to DSLR. Being a blur in a picture isn't appealing. Even if you have a smartphone as advanced as the latest Canon, your selfie will be ugly.
Unsuccessful images make you appear immature and lazy. Even worse, most selfies are taken indoors. Therefore, 80 percent chance they will swipe left.
Your selfies also put in their mind all red flags you don't want to raise. Bad selfies are simply vanity. Selfies lack individuality!
2. Profile Sound Like a Resume
The employee and employer relationship is quite similar to a love relationship. It starts with a spark, then a courtship, and finally years of mutually beneficial partnership.
Are you looking for a corporate relationship? 9 hours of formal work. Any organization requires a much more comprehensive range of positions and skills.
Your resume should begin with a brief explanation of your talents relevant to the position. Not in the case of love!
Add skills necessary in the Tinder bio as fluent informal as possible. Great Bug fix for "I have on Tinder no matches" issues.
3. No Attractive Hobbies
Can you not have a hobby because you are busy with other things? No one will consider an active person to ruin their life. However, depression causes you to lose interest in a partner you used to enjoy.
A list of hobbies can potentially be a knot between the two. If nothing grabs your attention, so you close the tab and give up.
When you're overloaded with tasks, hobbies get pushed aside by more pressing concerns. Never it was on Tinder no matches bug fix you needed.
Balance is vital. Consider your day. But you should never neglect your personal life.
4. Not Socialable
Not taking pictures with anyone is a wrong symbol. Social skills enable us to interact with others successfully. Problems with these skills can cause issues in a variety of areas of life.
Don't they have any friends? Does anyone want to date a loner?
Struggling with social skills is not the same as not being social. People may want to interact with one another. But when they do, things don't go well.
Social skills enable us to form and maintain healthy and satisfying relationships. But, unfortunately, loneliness and stress appear to be the glue that holds poor social skills to health.
People who lack social skills experience a lot of stress and loneliness in their lives.
5. Lack of Humor
Humor to resolve conflicts and strengthen bonds. What makes you happiest? That kind of laughter leaves you unable to breathe. The world is filled with sad faces. What if you can be the sunshine your partner deserves?
Do you ever find yourself in a room full of people laughing at something and realizing you're the only one not getting it? Studies show that a good sense of humor and frequent laughter can extend a relationship lifestyle.
You can't just develop a sense of humor overnight. But, figuring out punchlines from the internet can solve your I got on Tinder no matches problem. Laughter is a powerful tool for reducing tension and bringing people together.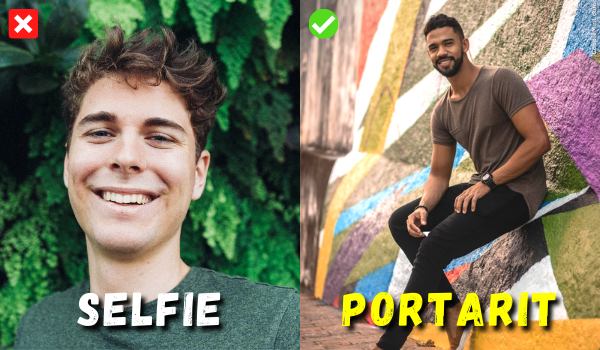 Solution for No Matches on Tinder
Get all solutions to attractive but on Tinder no matches here. Tinder is one of the most well-known dating applications. YouTube channel "Whatever" conducted an interesting Tinder experiment illustrating gender imbalance.
Tinder is different for men and women. Whatever made two profiles with stunning male and female models. The age, location, and photo count were also identical.
"1,000 swipes later the female profile matched 70% the time. Whereas a male profile only matched 27%. female profile received around 400 messages in a short time. Unfortunately, male one only received 28."

– Whatever
First impressions are very important. Tinder users can only assess you by your images and your profile bio. The platform is undeniably motivated by superficial appearances. Here are the 10 secret hacks for why do I get on Tinder no matches fix:
Ask Your Friend or Hire A Photographer
Do Not Blindly Swipe Right
Stay Active in Tinder
Boost Your Profile
Present Old Wine in New Bottle
Limit Group Photographs
Experiment Different Profile Pictures
Do Not Fake Interest
Take Feedbacks to Select Profile Picture
Add Humor in Bio
1. Ask Your Friend or Hire A Photographer
iPhone can not do most of the time. A professional shot starts at $25. Unless your best friend or roommate has a DSLR and some time to spare. Hiring a professional is a fantastic option.
The first good impression will immediately fix on Tinder no matches or bumble. A professional will direct your shoot to address all of the mentioned points as well as technical details like lighting.
2. Do Not Blindly Swipe Right
Swiping right blindly increases our susceptibility to the reciprocal liking bias. We are more likely to like someone if we know they like us. This seemingly harmless bias can really hinder our ability to identify a good match.
3. Stay Active in Tinder
3–6 images that perfectly depict your personality and daily life. Include a mix of head pictures, body shots, and if you're feeling brave, an active photo – but no selfies.
Outdoor photographs get 19% more swipes, while selfies get 8% less. You want to emphasize your best traits. Remember, your main Tinder profile image matters.
4. Boost Your Profile
At the end of the day, Tinder is a business. Investing in a business will provide you with fantastic rewards. Tinder Plus just costs $9.99 a month.
Tinder Plus will increase your account visibility and give you access to plenty of exciting features that will help you meet more people worldwide.
5. Present Old Wine in New Bottle
Never be afraid to show it off, if you have a good body. This is Tinder, after all. Wondering why do I have on Tinder no matches? Have a mix of photographs and not just body shots.
6. Limit Group Photographs
Your potential matches won't waste time analyzing ten distinct photographs to figure out which one is you. On Tinder no matches anymore will limit here.
Avoid images with ex-partners or people of the opposite S*x. 96% of group photographs elicit unfavorable responses.
I have likes on Tinder but no matches cannot stress you anymore. No one wants their possible match to brainstorm figuring you out. Just because you have group shots do not overuse them.
7. Experiment Different Profile Pictures
Avoid grainy, improperly cropped, extensively altered, or filtered photographs. You should show your true self. Having it overly edited and filtered makes you appear insecure.
Choosing your main photo is crucial. A good smile can fix on Tinder no matches after a week problem. Smiling is attractive to all genders and makes you appear sincere.
8. Do Not Fake Interest
Using a false identity may give the idea of catfishing or impersonation. Some information should be kept private on Tinder. But don't lie on your profile.
"Should I use my real name on Tinder?" you may wonder. So use your real name or at least your nickname on Tinder. Avoid over popular accounts with 99 likes on Tinder but no matches types.
Be specific about your expectations. This will help you identify people who share your aims, such as a prospective long-term relationship.
9. Take Feedbacks to Select Profile Pictures
Ask your friends to pick their favorite images from best to worst. Plan your strategy instead of stressing on no one matches with me on Tinder.
Try to figure out the image patterns. You will know what kind of photographs to display.
10. Add Humor in Bio
A few words that show who you truly are are fine. Don't overdo your eccentricity or attempt to be hilarious. Be yourself and don't leave this part blank.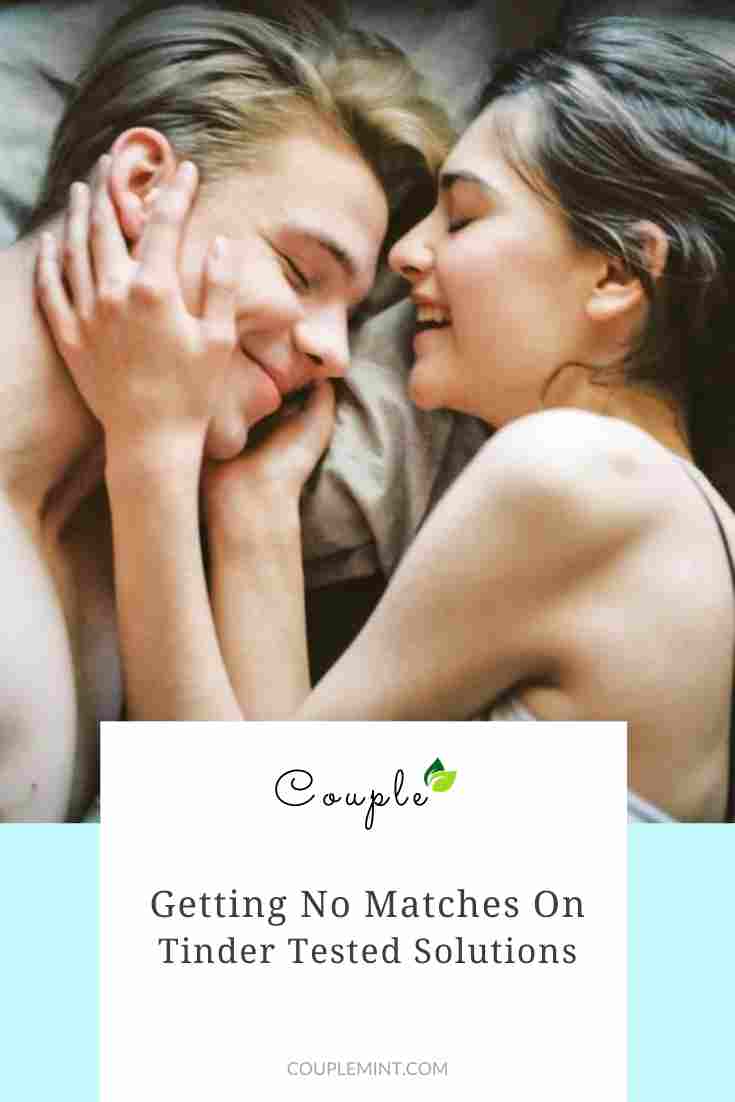 Final Words
Thank you for reading my article. I hope you got the solution for no matches on tinder. Loved reading my article? Please spread the word on Facebook and other social media channels.