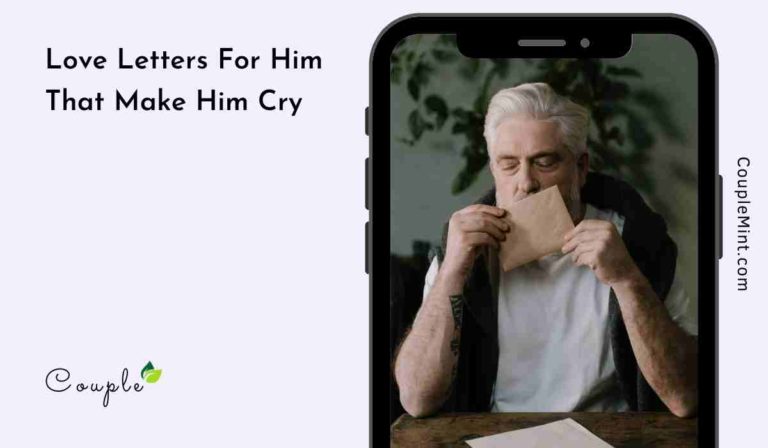 You are looking for the ideal words to tell your loved one how you feel? You're welcome to browse through the lovely collection of heartfelt romantic love letters for him! Remember when a man would woo his wife with his gentlemanly manners, make an effort to maintain her, and as a result, the woman was joyful, caring, and loving toward her partner?
You must understand how much you mean to me. Seeing you every day tells me that true love exists because I have never loved so passionately for anything. Loving you has opened my eyes to many things and given me a lot of ideas about how we should live in the future. Sweetheart, I adore you.
These tear-jerking emotional love letters will help lovers create intimacy regularly by sparking inexhaustible affection in their hearts for one another. A passionate connection necessitates the exchange of romantic words in the form of a love letter between soul mates.
A letter is the best approach to express feelings that cannot be expressed verbally. You may make him feel loved and adored by surprising him with notes on his birthday or another momentous occasion. Continue reading for a list of love letters you might write to your boyfriend to recreate the romance of a bygone era.
Love Letters For Him That Make Him Cry
Here are some heartfelt love letters, both lengthy and short, that will make you cry—the most amazing short and long romantic and emotional love letters that will make you cry for him.
There are reasons why I love you. You have always been there for me ever since we started dating. I know that I can count on you to always be by my side in hard times and in good times such as this moment right now! You might not understand how much you mean to me, but trust me, you do! My dear boyfriend, I love you so much and will always cherish you.

I never thought this could happen, that I would fall in love so hard. You've shown me what real happiness is. Without you, I don't know where I'd be today. It's a blessing to tell you I love you every day. When we're apart, it feels like time stands still. With you by my side, I feel safe and happy.

I wish I could write a new love letter to you every day because as soon as one ends, another one begins. I don't think it's possible to ever express my deep love for you in words. I'll never grow tired of loving you, and neither will you, just as long as we are meant to be together. I love, respect, and appreciate you, sweetie.

I LOVE YOU SO MUCH. You are the most amazing boyfriend I could ask for, and you always know just what to say. You make me feel like I am the only girl in the entire world! I can't get enough of you. I love everything, from the way you make me coffee each morning to when we cuddle up on the couch together after a long day, and I love it all! Thank you for making me so happy, baby. You are my little sunshine!

I love you and never want to lose you. You mean the world to me, and I can't wait until we are old and grey together. I want to tell you that I love you every day and thank you for being there with me through everything.

My love for you grows every day. I can't even imagine how I was ever happy before you came into my life. Every day that passes, I feel more in love with you. You make me feel things that I have never felt before, and your smile lights up my entire day.

Meeting you was the best moment of my life, and loving you reaffirmed my guess that true love exists. I love the way you handle me and treat me like a queen. I appreciate the unconditional love you shower on me daily.

I've always asked myself, what do I want in my life? I've come to the conclusion that I wish to you and nothing more. You make me feel so much of everything: happiness and excitement. I can only imagine what I, without you, would be like.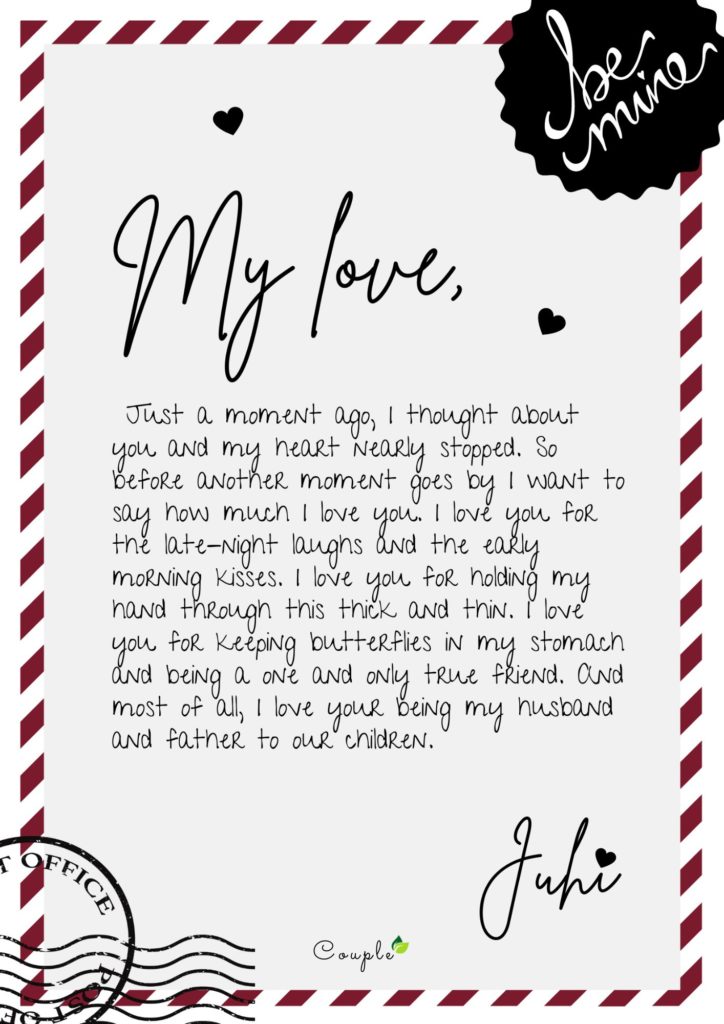 Good Night Love Letters for Him That Make Him Cry
Here are some Good Night Love Letters for Him That Make Him Cry.
I love you. You are the most amazing boyfriend in the entire universe. I have never loved anyone the way I love you, and I don't think I ever will. You have given me so much more than I could ever imagine. You mean everything to me.

Being with you has left me with emotions more profound than I've ever dreamt about in my life. Forever is not enough to be with you because your presence in my life has influenced me to laugh harder and cry a little less. You have shown me great love, a wonderful friendship, and a fantastic companion. All I need and see is just me and you being together until the end of our lives. You are my inspiration, and I feel fortunate to have you in my life.

I am so in love with you. I feel like a teenager again! You make me laugh and smile every day. I want to care for you twenty-four seven. And I can't wait to see your handsome face over the breakfast table in just a few hours from now. Marry me?

When we are together, I feel the world spinning much faster than usual. You are the ingredient my life needs daily, and your happiness gives my life fulfillment. You're all I need in life, and nothing is coming in between our love.

Your presence in my life has filled all the empty spaces there. With you, I am sure that my life would make more sense. The love I have for you is unconditional, and I would continue to love and cherish you. You are the great love of my life, and no one can ever take your place in my life. I love you to the moon and back.

My love, this letter is for you. I am so lucky to have you by my side, guiding me, leading me, protecting me, and loving me. Without your help and support, I would be lost. You are more than words could ever express, and I am glad to have a man so kind, understanding active, and strong by my side.

I love you; you are my one and only true love. I will be waiting for you, my dear, forever. I miss you every minute of every day. I am more than happy to spend my life with you.
Love Letters for When You Have an Argument
To make him fall in love again, give him a Love Letters for When You Have an Argument to let him know you are thinking of him:
I can hardly live a moment without you because your love is like a butter-honey from a teacup. From the first day, I set my eyes on you, and you took my breath away. I knew that this love was divine. Thank you for being so loving and tender, like a petal from the morning dew. Every day, I wake up with a fantastic feeling that heaven has deemed me worthy and blessed me with you.

I love you. You are just the perfect man I wanted to have in my life. You love me when I don't deserve you, and even sometimes when I do. You are caring, sweet, funny, and understanding. Whatever there will come to be in our future, I would happily walk to it with you.

Looking into your eyes, I am ready to face anything in life. Those eyes are the most amazing things I have ever seen. The feelings I get around you are indescribable, and I doubt I will find them with anyone else. Nothing and no one can take away my love for you.

You're a gem so rare to see, but luckily I found you, and now that I have you, I would love, cherish and adore you. My heart is at peace whenever you are with me. My life was all apart till the day I met you, and for once, things went well for me. I will be with you forever, taking each step with you.

I can't wait for the future where we will have our kids and do all the awesome things we have always dreamed of in life. I don't know what I did precisely to deserve your never-ending love, but I am grateful that you came my way. You are my inspiration every day.

I used to think that you were the most beautiful person in the world. Now, I know that you are. Your eyes light up a room, and your smile can melt hearts. You are my darling, and I will cherish every moment we share. I will continue loving you until the stars burn out and the oceans dry up.

Your love makes me feel high. So high that I cannot come down. Whenever you are around me, I can't stop smiling. You truly deserve so much more in this life. With you, my life is so much better and more accessible. I am glad the universe made us meet at the right time in our lives.

When I saw you, I realized that love is like a wind we can feel but can't see. Now that you are in my life, I don't want to lose you to anything in the world. I am the luckiest woman in the world to have own your heart and your arms. I love you like there is no tomorrow.
Anniversary Love Letters for Him That Make Him Cry
Oh, babe, I love you so much. I don't know what I'd do without you. You're quickly becoming the most critical person in my life. You mean more to me than anyone has before, and I want you to know that I don't take it for granted.

He is just the perfect man in the world, the best man in the world. He is my teddy bear, my rock through hard times, and the go-to person when I need a hug. I love him with all my heart, and I would never trade him for the world.

I'll not stop loving you until I stop breathing. I love you sincerely, and my heart leaps for joy with your presence. I want to spend the rest of my life with you because we belong to each other. I love you with all of me.

Fate brought about our meeting, and I am fortunate to have met and fallen in love with a fantastic person like you. Everything about you makes me happy, and I so love every bit of you. It's so amazing how much I love you.

There's nothing better than waking up each day knowing you're mine. The thought of spending eternity with you is such a beautiful thought I can hardly imagine it. Thank you for coming into my life and showing me what true love really is. I promise to spend the rest of my life cherishing you and making you happy. You are truly unique, truly loved, and truly cherished.

Becoming friends was a choice, but falling deeply in love with you, as I've never done, was something way beyond my control. If loving you was a sickness, I'd wish to remain sick for the rest of my life. However, your presence in my life has affected me greatly. I love and cherish every moment I'm with you because it brings out the best in me.

You made me the happiest woman on earth when you came into my life. I will shower you with love and care you need, and I will always be right there for you when you need me. I know having you was the luckiest thing that happened to me. I will handle you like a baby and treat you like a king.

I want to hear your voice every day because it gives me joy. Allow me to hold your hands when we speak because it comforts me. I can't survive a day with the thought of you not being there for me. I'll be with you at every given opportunity because I find fulfillment around you. I love you entirely.

I wish I could take all the pain away. Nobody deserves to be in pain. Nobody deserves to die like that. And nobody, and I mean nobody, has a heart as pure as you. You have too much good inside of you, and no one will ever be able to keep up with your light except me. I love you with all my heart and soul and never want to stop!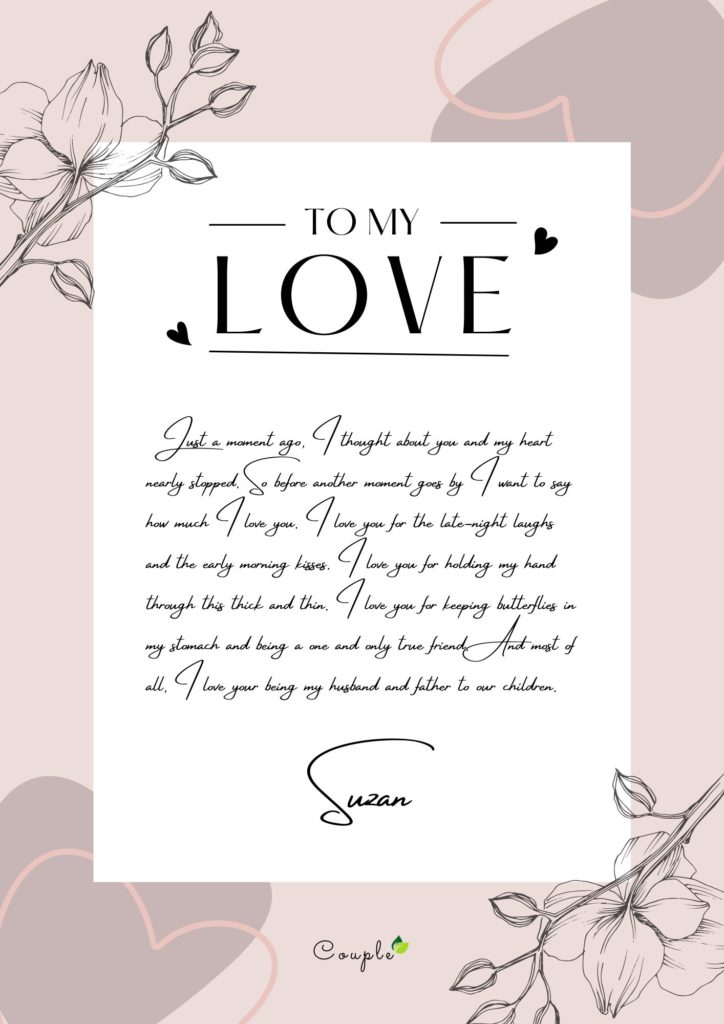 Cute Love Letters for Him That Will Make Him Cry
I know we have our struggles, but no matter what, I am always here for you. Whether that means holding your hand or punching a wall for you. I love you more than anything. You mean everything to me.

I love you so much. I am so lucky to have you in my life. I can't stop thinking about you, and I am grateful every day that we meet. You give me more joy than I ever thought possible and fill my life with so much love and happiness. Every minute I spend with you is a moment filled with pleasure that I will never forget and cherish forever.

My love, it's you I think of when I wake up, and it's your face that I see before falling asleep. You are my life, my heart, and the only thing that keeps me going when life gets tough. It's you who makes me feel like a princess, and your smile is the prize that I am eternally grateful for.

I never thought that I would ever find real love. I always did and will always compare all other men to you. Your kind heart, your gentle soul, make it easy for me to fall deeper and deeper in love with you. I love you more than anything in the world, baby!

My love; The man I can count on. You make me happy; you bring light into my heart and soul every single day. I am so thankful for you! I love spending time with you and getting back to the fun we had before our lives got so busy. Thanks for being patient with me when I'm on edge and always willing to help and be there for me.

My dearest, you are my greatest love and the man I want to spend my life with. I get butterflies in my tummy every time you hold me, and when you look deep into my eyes, I fall even more for you. You have such a strong personality, so special, unique, and wonderful. I will never forget the first time we kissed or looked at each other as one. You are mine forever – I can't wait to see what the future holds.

I love being your girl. Every day when I look at you, I just melt inside. You are my knight in shining armor, the one who makes everything better and the only guy ever to make me feel like this. I'm so glad you are in my life and that I get to continue to love you the way I do.

I love you, my baby; You are always the first thing that comes into my mind when I wake up and the last person I want to say goodbye to. I know we are young, but you make me feel like an old soul. I am so happy to have met you and hope that it never changes.

I try to think of ways to show my love for you, but I know so well the best way, and the only way, is to tell it. I love you dearly.

You make me feel good about myself, and that's the reason I always want to be around you. Even in my lowest moments, you know the right words and the calm things to do that will lift my mood. You are just too sweet. I love you, honey.
Short Love Letters for Him That Make Him Cry
I love your kisses, your gentle touch, your funny jokes, and all the little things you do. Every day my love for you keeps growing, and I even amaze myself how this happens.

I just wanted you to know that I Love You. Yes, my dear, I love you with all of my heart; I love you from deep within my soul, and please know that this love is not temporary; it is an eternal love that will last until I take my last breath.

Being away from you is a lot worse than I could have ever imagined. I truly realize now how much you mean to me.

I love you, my dear, and this separation is just so rigid on me. I placed a calendar on my bedroom wall, and I keep counting the hours and days until I see you again. I miss you more than you know and I hope that you miss me too.

I am sending you a kiss, a hug, my heart, and my love, always.

Have I ever told you how special you are to me? You are the most special person in my life, and in fact, you are my life.

I want to promise to you that I will always love you, that I will bring you the sunshine and paint a smile on your face. I promise that I will comfort your tear and gather up rainbows to chase away all your sadness.

I promise to take care of you, to help you in any way I can, from a simple smile of encouragement to shouldering your problems. I solemnly swear to you that, as long as forever, my love will stay true.
Why love letters are important?
Even though it may sound clichéd, I enjoy writing love notes.
The following are five reasons why I still write love letters:
1. WORDS MATTER
Love letters have a genuine quality that makes every word count. A handwritten love letter will do the trick if you want your words to mean something. There is nothing more powerful and fragile than someone who spills their emotions on paper.
2. IT'S A TANGIBLE OBJECT
Unlike a text or email, a love letter can be kept. It will still feel the same after a hundred openings or re-readings. They are recollections in a manner. Something that can bring back a special memory or a special moment and place.
These aren't empty platitudes. They are timeless and a constant reminder of love.
3. THEY ARE REAL
This form of expressiveness feels natural and brings me back down to earth. You or someone else's handwriting, when was the last time? Love letters aren't shared on social media; they're personal. Also, having received love letters and seen loved ones open them, I know they can bring a person a physical and emotional joy that is difficult to duplicate.
4. VERY THOUGHTFUL
Millennials have lost the skill of writing love letters. It would be incredibly thoughtful if someone made one for me. It would require more effort than a text message, especially if they thought about the stationary and ornamentation. I may swoon at the thoughtfulness of the gesture.
5. FEELS CLASSY
A person who writes a handwritten love letter is a keeper. It's a great move that won't be forgotten. I'd stick around for someone who did this for me. And a girl/boy likes to be swept off her/his feet. This will certainly work.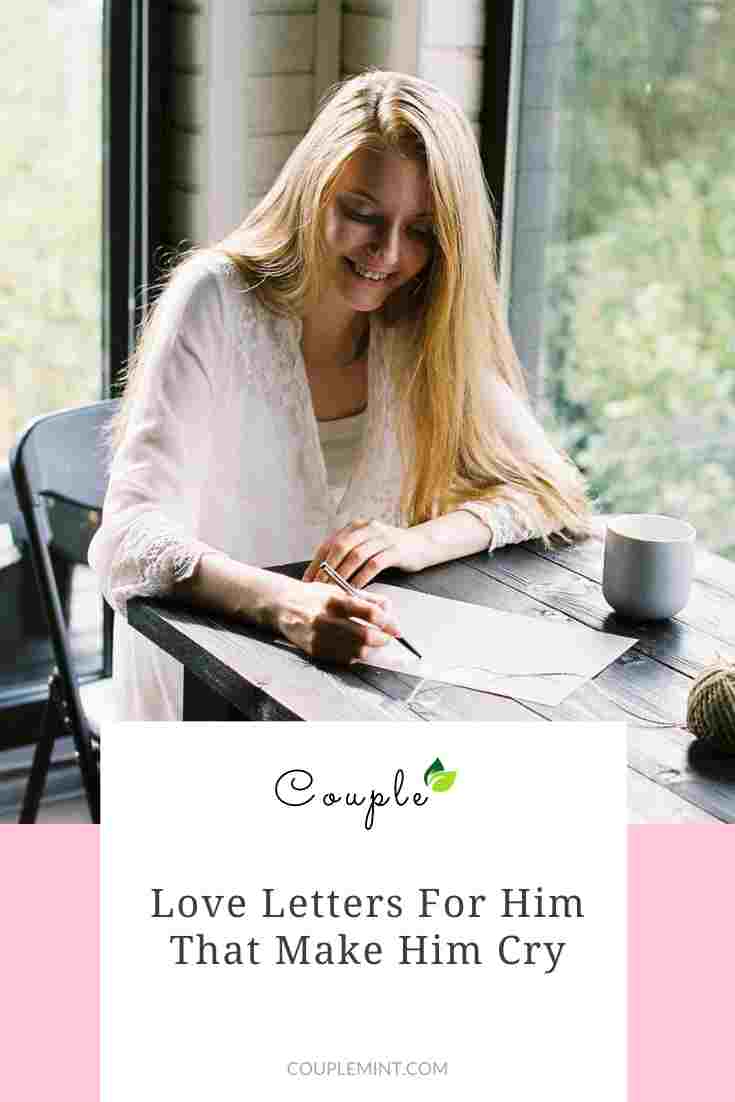 Also Read:
Final Words
Hi, myself, Melinda Davis.Thank you for reading my article. My team and I put my best effort into creating this post to help You with the best choices. I think you got the Perfect Love Letters for Him That Make Him Cry.
We researched worldwide to get Love Letters for Him That Make Him Cry. Suppose You found this article valuable enough. I will love to hear from You. Let me know your thoughts about this post in the comment section below. Share the good words on Instagram or Pin it on Pinterest.